Stonecraft
Kevin Stitzinger - Stitzinger Stonecraft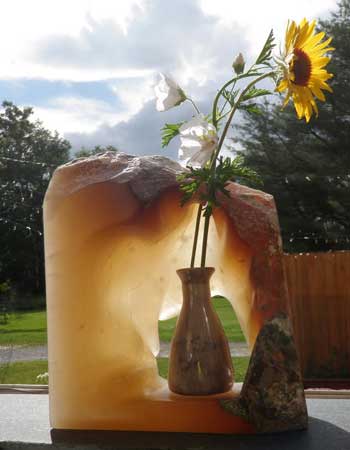 Kevin Stitzinger is a stone sculptor living in Arbovale, West Virginia. His interest in rocks and minerals dates back to a collection of common road gravel and quartz obtained from rural neighborhood streets and flowerbeds - a nine year old's treasure. More recently he received a BS in Environmental Science with a specialization in Geology from Edinboro University of Pennsylvania, and a MS in Physical Geography from the University of British Columbia (2001). Through these studies he obtained an even deeper appreciation for the internal, compositional beauty of rocks and minerals, the natural forces that form, transport and erode them, and the possibilities of stone as a medium for artistic expression. Kevin has been sculpting stone for the past ten years and what began as an interest in creating unique gifts and household accent pieces has been developed into a full-time professional business.
All of Kevin's work is hand carved in natural stone highlighting inherent textures, colors, shadows and grains to develop three dimensional sculptures and two dimensional carvings. Natural surfaces are juxtaposed with the imprint of many "paintbrushes", from simple chisels to hand held grinders, with each cutting edge selected for the particular mark it will leave on the stone. The nature of the stone, Kevin's perception of the possible, and the many tools he works with harmonize to provide a peaceful, enduring connection with nature in one's home or yard
Over the past few years Kevin has sold sculptures at Augusta Festival in Elkins; FestivALL, the Vandalia Gathering, and River Arts in Charleston; Oglebay's Fall Festival in Wheeling, and at a variety of community art shows. Kevin has also had pieces juried into the Randolph County Community Arts Center Gala Exhibition.