Jewelry
Cheryl Beverage
Rolf Brunner - Fretwork Jewelry
Rolf Brunner has been called a pioneer in laser cutting and laser engraving. He grew up in Zurich Switzerland. Rolf always had an interest in art and making intricate and pretty things.
While teaching shop at an elementary school, Rolf found a book with some fretwork. Brunner sent over 75 letters to England to learn about this almost forgotten art. He visited the Strong museum in Rochester New York and contacted a clock maker in Pharr, Texas who started fretwork by using a Ford model T engine to cut his artwork.
Rolf started to design his own designs and was published by the world famous author Patrick Spielman who has written many books on scroll saw work and fretwork. He was also published in the Wood magazine by Better Homes and Gardens with some of his designs.
In early 1990 Rolf heard about a new way of cutting wood. It was a laser engraving machine. He started to explore the idea of using one of these new machines, and in 1995 he purchased his first one. Since this was such a new concept, it was difficult to get a bank loan for such an expensive new type of machine. Rolf contacted the SBA and was able to purchase the newest machine on the market.
Many items available for sale have been designed by Rolf and other artists from around the world. Working collaboratively to create these intricate designs allows them to offer some of the more elaborate gifts.
Rolf's work can be found in many gifts shops as well on his website.
Louise Burner
Louise sees new visions of color, shape and texture in her surroundings, which she infuses in each small piece of beauty she creates. She only makes jewelry and textile artwork that she would own, use, or wear herself. Louise works with natural stone, metal, glass, shell and clay. Simple but elegant wirework is her signature.
Website: Burner Hill Designs
Malinda Carr
Malinda has been designing jewelry for the last four exhilarating years. I create for those that love simple lines and alluring gemstones. I am a juried artist at Tamarack in Beckley, WV as well as a member of the Pocahontas County Artisans Co-Op. I work with antique bare copper wire, bright aluminum jump rings and the boldest of gemstones.
Lyn Cetani - Fused Glass Jewelry
Lyn uses her skill as a stained glass artist to craft truly inspiring fused glass pendants. Her use of shape and color is utterly unique. Contact Lyn at lyncee9@aol.com
Marcus Cetani
Cree Lahti - Ceramic Jewelry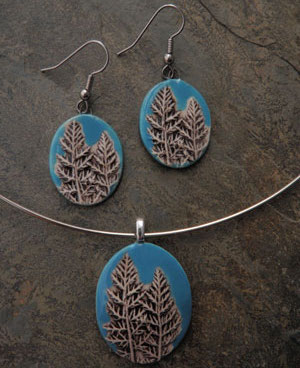 Cree makes jewelry that captures the delicate beauty of West Virginia nature using earthenware clay. Inspiration abounds in the mountain environments of Pocahontas County, where she finds organic objects such as leaves, flowers, and grasses that she presses into clay, creating an imprint of precise detail. Each piece is fired, hand-painted, and fired again. Her work is characterized by an emphasis on small, delicate elements and patterns in nature otherwise easily missed by the casual observer.
Website: Cree Lahti Ceramics
Katie Mullins
A self-taught jewelry maker, Katie is continually inspired by nature and the world's human cultures. Incorporating semi-precious stones and feathers, each piece is delightfully unique and will never be duplicated. Contact Katie at myrockables@gmail.com
Peggy Owens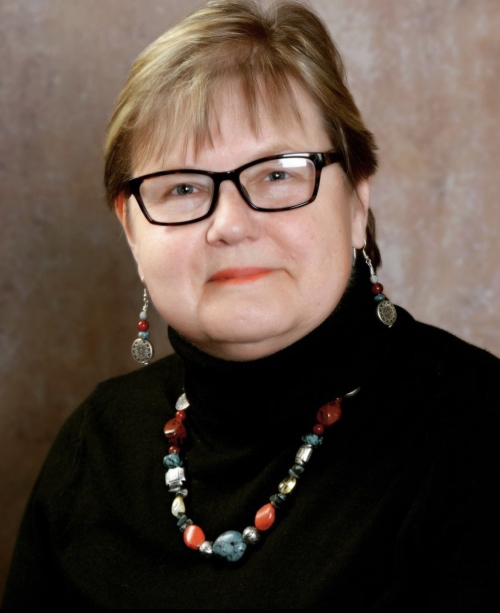 Peggy Owens was sure that her calling was to be a teacher. For 37 years she taught elementary school and was the "Magic School Bus" kind of teacher. She returned home to West Virginia in 2018 and became a middle school art teacher. Everyone who knew her was surprised at this, but Peggy was the most surprised and at this point, she became the "Accidental Artist."
Once she started teaching art, she was completely taken by the bright colors of the Fauvist Movement and fell head over heels in love with abstract art. Living in Pocahontas County, she felt that no artist could improve upon nature's beauty so painting landscapes was out, but abstract pieces have different meaning to each person who views them. Kandinsky's geometric work seemed magical, Van Gogh's work was breathtaking and Picasso saw things in ways no one had seen before. Jackson Pollack proved that paint could be EVERYWHERE. She was hooked!
She retired from teaching and is now making art at Chaos Acres Studio. She does acrylic abstract painting, glass mosaics, fused glass, jewelry, and photography-so far. A friend once labeled her as "Where ADHD meets AARP" because as soon as something catches her attention, she tries it. Her interests other than art are all over the map as well. Although her majors loves at this time are art and grandchildren, it should be noted that she has delved into everything from storytelling to roller derby. The bluegrass lover in her owns a banjo and the Irish lass in her owns a bagpipe, but they are no match for the 10 year old kid inside of her who still likes to throw varied glass into the kiln together just to see if it will blow up. After all, she IS the "Accidental Artist."
She retired in June of 2021 and started with the Pocahontas County Artists' Co-Op in July. Since then, she has had work displayed at the Cultural Center on Charleston, West Virginia at the Capitol Complex, and has been featured at a Pittsburgh Art Exhibition. She has art galleries in West Virginia, Virginia, and Indiana. It's hard to tell where you might find her next, but it's a sure bet that if there is a messy, bright miasma of colors, she will be nearby.
Cindy Sandeno
Cindy creates one-of-a-kind jewelry fashioned from an eclectic mix of semi-precious stones, freshwater pearls, Swarovski crystals, and a menagerie of glass and seed beads. She is on a journey to create vibrant and organic pieces that celebrate the beautiful West Virginia forests where she spends much of her time. Hers is a journey she wants to share with others, especially the bold at heart. Contact Cindy at cmsandeno@yahoo.com
Suzanne Williams - Stamped Jewelry, Wire Working, Fold Forming & Acid Etching
Suzanne began her jewelry making with hand-stamping: bracelets, earrings, necklaces. Many of those items were adorned with semi-precious stones and Swarovsky crystals. She has collected beads from more exotic locations: Nova Scotia and Alaska in particular. She sees hand-stamping as a way to convey a meaningful message. Her leather bracelets allow for a range of colors and a message added using copper, brass or aluminum.
Her jewelry work then moved into using a wire working technique of bending, coiling, shaping, hammering and twisting wires. Again, beads might or might be used in these styles.
She then discovered acid etching and really fell for the technique. Taking heavy gauge copper or brass bars and other shapes, shielding the metals in various ways to prepare them for an acid bath allowed her to create bas relief designs. The unprotected metal was eaten away by the acid, leaving the raised metal that had been shielded behind. Though a truly labor intensive process, the results were ones that left her breathless. Copper in particular could be finished to create shadows, light and dark areas, even rainbow effects to highlight the designs. It was "Katy bar the door".
Most recently she has begun learning a style called form folding. Using a torch to heat copper to a cherry red, folding it, hammering it, heating it again, unfolding it, hammering away ... the results are astonishing. The forms this has allowed her to experiment with and create, she's found all kinds of new and unexpected shapes and textures.
Any and all of her jewelry can use beads, hammering, stamping .. the options are endless. It is this possibility for experimentation that makes her work more like play.