Primitive Folk Art
Brenda Ferguson - Primitive Home Decor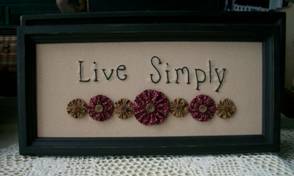 Native West Virginians, Brenda and her husband returned to their beloved home state; and upon retirement in 2009, began their dream of living "the simple life." Throughout their years together they created Christmas gifts for their large extended family and friends. They presented them with a wide variety of offerings, from home-canned goodies from their kitchen, to needlework projects, to wooden lawn ornaments, to holiday home decor.
Always interested in crafting, Brenda, a graduate of Marshall University's College of Education, incorporated arts & crafts into her career as Adult Education Instructor and curriculum developer and practioner in Family Literacy programs in southwestern Pennsylvania. Her students enjoyed learning to create new things with their own hands and sharing them with their families. They learned that they could use their imaginations to give their children treasured items that cost them little to make, mostly using items they already had in their homes. Her students' accomplishments are a great source of pride for Brenda.
Thoroughly enjoying her new life near Hillsboro, Brenda occupies much of her time with creating many different projects that she recently began selling at local craft shows. With her projects well received, she is encouraged to continue creating projects that remind us of a simpler place and time, bring us comfort, and enhance the beauty of our homes.
Dianne Monroe and Sarah Moss - Barefoot Woods
Dianne & Sarah call their business Barefoot Woods. They specialize in rustic crafts and in repurposing found items into delightfully useful new ones.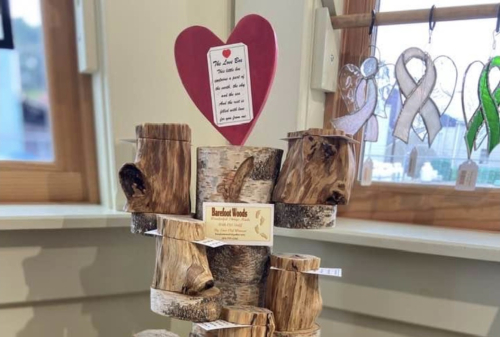 Barefoot Woods is now featuring Love Boxes, made out of rhododendron that had fallen in the woods.
Barefoot Woods now have ornaments for sale at the 4th Ave. Gallery. If purchased on or before December 3, they can be personalized by Sarah and/or Dianne.