Fabric Crafts
Marilyn Barton - Textiles
Cheryl Beverage
Jane Beverage - Quilts/Stitched Fabric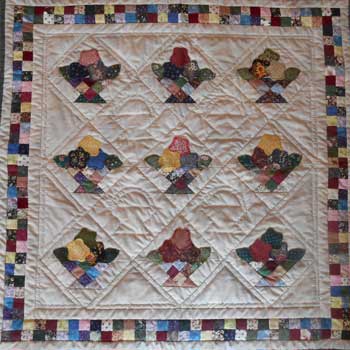 Pocahontas County has always been my home. I was born in a log house on a farm near Dunmore and my husband Richard and I reared a daughter and a son here.
It has been a family tradition for several generations every Spring to make maple syrup the old-fashioned way, boiling the water down to syrup with a wood-fired evaporator (furnace).
Making quilts is also a tradition in our families. I learned to sew on a treadle sewing machine and made a lot of our clothes by hand over the years. Then I discovered the fun of doing counted cross and filled my walls with my stitching!
After working in Pocahontas County schools for 30 years, I retired and the quilting bug came back and bit me big time! One stop at the local artisans' gallery and after meeting the friendly people who worked there, I was inspired and invited to join the cooperative. Now I am busy sewing quilts, table runner, table trivets, potato bags and Christmas socks and enjoying it all!
Louise Burner - Crochet/Soft Toys
Cheryl Cain - Cloth Baskets
Crafting is a part of Cheryl's heritage. She was a curious child that needed something to keep her busy. So, her grandmothers taught her some form of crafting at a very young age. One grandmother had a drawer in the old treadle sewing machine where Cheryl was allowed to keep her embroidery projects. The other grandmother taught her how to sew using newspaper as the pattern and materials that were on hand rather than buying something new. Her love of crafting had been put on hold somewhat due the demands of raising children (Shawn and Danielle) and working a full time job as a supervisor in the Radiology Department at Pocahontas Memorial Hospital for almost 30 years. In 2020, Cheryl and her husband, Danny, retired from their full time jobs. With their children grown and spare time on their hands, Cheryl started crafting again and soon, Danny began making spinner flies for trout fishing.
Cheryl took a class on making cloth baskets and loved the art of seeing how different shapes and different cloth could make such beautiful baskets. Last year, she decided to sell her art and became a member of the Pocahontas County Artisans Co-Op. She now sells baskets, hot pads, jar openers and fabric cards.
Sandra Simmons - Soft Toys
Jan Skellion - Needle-felted Sculpture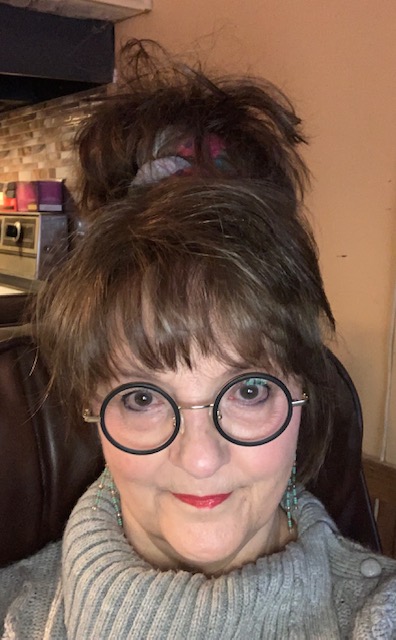 An art major in college, love of art, love of nature, and love of animals have always been part of my life. They've remained so, even after 40 years playing the role of a responsible adult and working as a hair stylist and business owner. Meanwhile, I've enjoyed various arts and crafts, such as water color painting, knitting, and jewelry making.
A few years ago I discovered the medium of needle felting. It's turned out to be a natural, a perfect fit, combining my enjoyment of fiber with my lifelong love of animals. One of the delights of the art is how each piece is unique and individual, a one of a kind with a spirit and personality all its own. My work is currently featured at the Fourth Avenue Gallery in Marlinton, West Virginia, the Art Colony at the Greenbrier in White Sulphur Springs, WV, Allegheny Highland Arts and Crafts Center in Clifton Forge, VA, and Handmade West Virginia at Droop, WV.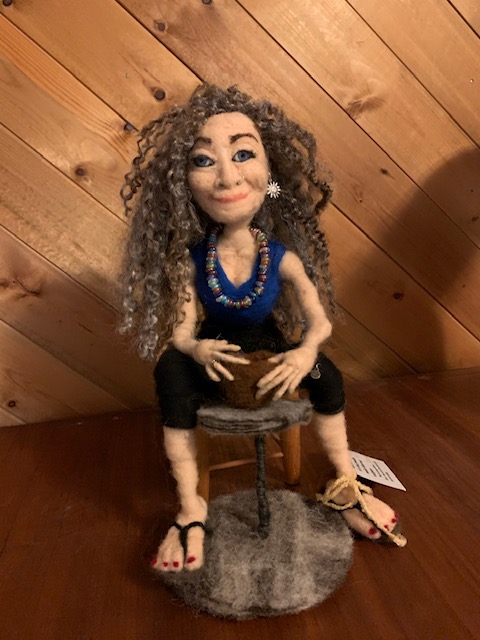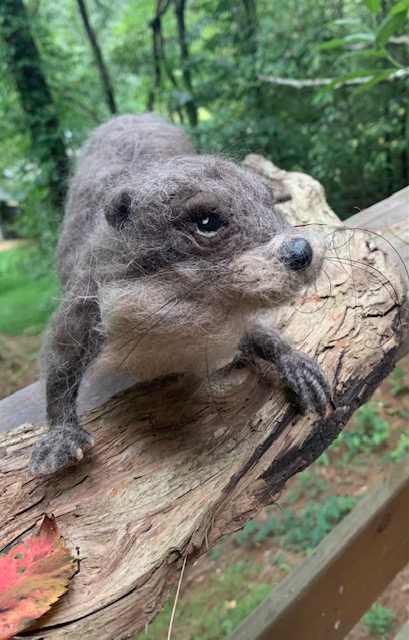 In college I studied ceramics, an art form I resumed recently, focusing on hand built items, including mugs, bowls, dishes, sculpture, and garden bells. My work is available under the name Tea Creek Clay Works.
Jan Skellion
Anne Walker - Little Levels Homespun Treasures & Gifts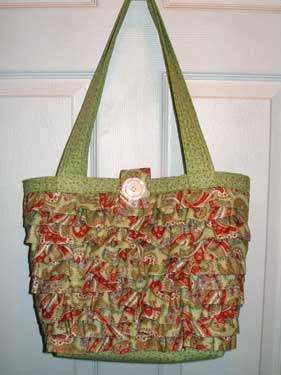 I come from a long line of creative people. My two most noted influences are my paternal grandmother, Bertha Custer and paternal great aunt, Mary Derflinger. My grandmother was an excellent seamstress. She could see a woman on the street in a dress and go home and create her own pattern from memory and make the dress to fit her size and features. My great Aunt Mary had many talents at creating. She could create beautiful scrap hand sewn quilts, restore historic antique quilts, crochet afghans, create crochet beaded necklaces, and was well versed in clothes making.
From a young age, the value of handmade was instilled by my mother, Barbara. My family for many generations has made things for themselves and others. Receiving something handmade for Christmas or a birthday was always a tradition. My brother and I were taught at a young age that you just don't part with a handmade item someone has taken the time to make and give to you. From this, I began to create and give handmade to keep the tradition alive.
I can remember as a young girl reading my mother's Reader's Digest Needlework book that had various crochet stitches and then trying my hand at duplicating them. My mother crocheted and knitted, so I had a good source of yarn. I crocheted baby blankets for family members when a new member would arrive. Then beginning in 9th grade I became interested in quilting. I constructed my first baby quilt for a 9th grade history project. I decided to keep it for myself and was able to wrap my daughter in it when we brought her home in September of 2009. I kept my creative streak alive in college at WVU by doing little side projects when time was available.
After becoming a stay at home Mom in March of 2006, I began sewing diaper bags for myself because of the quality of store purchased bags. Other people liked them, so I made some and gave them as gifts. Eventually, my friends and family encouraged me to make and sell my work. Having never taken a sewing class or received instruction in machine sewing, I spent hours pouring over owner's manuals and sewing magazines to teach myself quality construction and neatness. I enjoy seeing other people's work not to duplicate it but to draw influence. Feedback from my customers and fellow crafters is always taken into consideration and valued.
Currently, I enjoy making patchwork items with coordinating fabric collections and/or complimentary fabrics. My passion is making bags, whether it be tote bags, purses, travel bags, cosmetic bags, kids' crayon bags or bags with appliqué accents. I created my business "Little Levels Homespun Treasures & Gifts" from the area where I live in Pocahontas County in the Town of Hillsboro. Handmade has been a tradition of the area since pioneers settled in 1760, so I wanted to continue those traditions in my business name. Since joining the PCACO-OP in August of 2013, I've discovered that I enjoy making aprons with various features and different sized quilted doilies using Dresden plate designs. In the future, I hope to offer antique jar lamps with quilt decorated lamp shades. Contact Anne at walker_wvu@yahoo.com
Suzanne Williams
Matted silk creations, ready for framing. Unique collages and organic mind-scapes in silk. Contact Suzanne at silkworkart@gmail.com