Ceramics
Betty Connolly
Contact Betty at northgrapevinefrm@yahoo.com
Linda Heatherman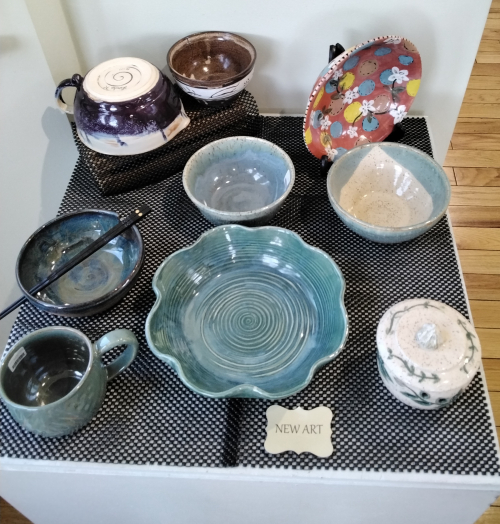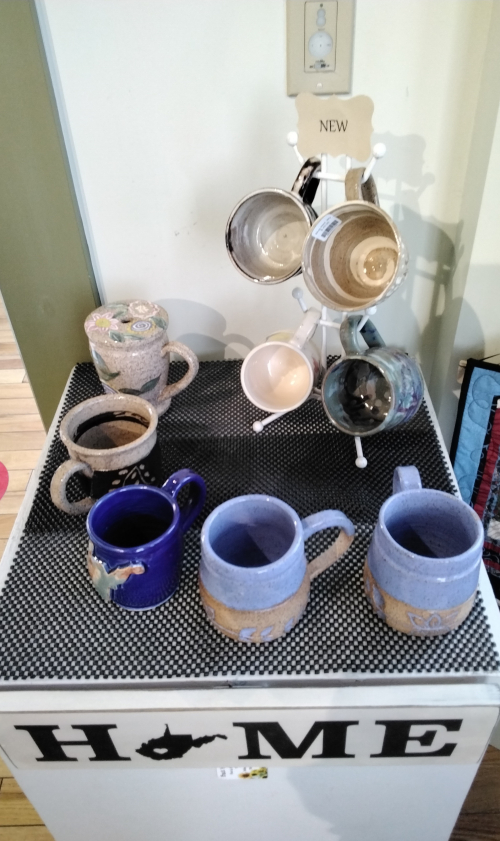 Sue Hevener
I live in Arbovale, WV with my husband Bill and our dog, Gracie. Together we attend Pine Grove Church. I especially enjoy gardening and special finds at estate sales along with working in clay.
I began working sporadically in pottery on the wheel in 2010, but it wasn't until much later I tried my hand at slab building and discovered great joy in creating face mugs. Often family and friends would comment at how the different mugs looked like an acquaintance or family member and much to my delight would want to buy them.
I've always been fascinated by the different aspects of the human face. Though no comparisons to any one person is made during the creation of these mugs, they tend to bring a giggle, a smile and a little bit of humor as we see some "familiarity" of our family, friends and neighbors...or even ourselves.
The process of hand building, diligently molding and shaping a lump of clay until it has a characteristic all its own can take many hours to create, but can bring a lifetime of pleasure.
Sue has juried into Appalachian Arts and Crafts Center in Clifton Forge, VA, The Wild Ramp in Huntington, WV, and the best of West Virginia's Tamarack. Her art has expanded to include soap dishes/trinket holders and face magnets.
She can be reached at c.sue2@hotmail.com.
Jan Skellion - Needle-felted Sculpture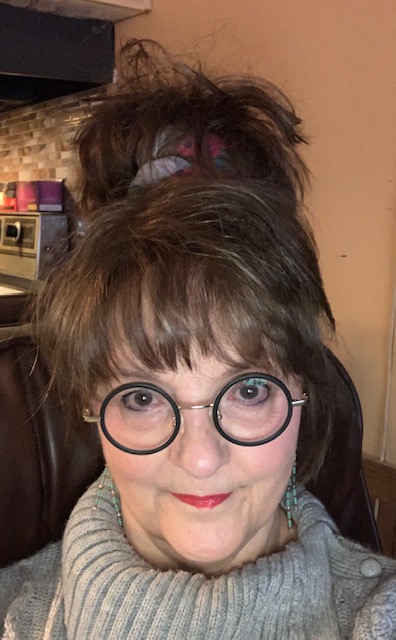 An art major in college, love of art, love of nature, and love of animals have always been part of my life. They've remained so, even after 40 years playing the role of a responsible adult and working as a hair stylist and business owner. Meanwhile, I've enjoyed various arts and crafts, such as water color painting, knitting, and jewelry making.
A few years ago I discovered the medium of needle felting. It's turned out to be a natural, a perfect fit, combining my enjoyment of fiber with my lifelong love of animals. One of the delights of the art is how each piece is unique and individual, a one of a kind with a spirit and personality all its own. My work is currently featured at the Fourth Avenue Gallery in Marlinton, West Virginia, the Art Colony at the Greenbrier in White Sulphur Springs, WV, Allegheny Highland Arts and Crafts Center in Clifton Forge, VA, and Handmade West Virginia at Droop, WV.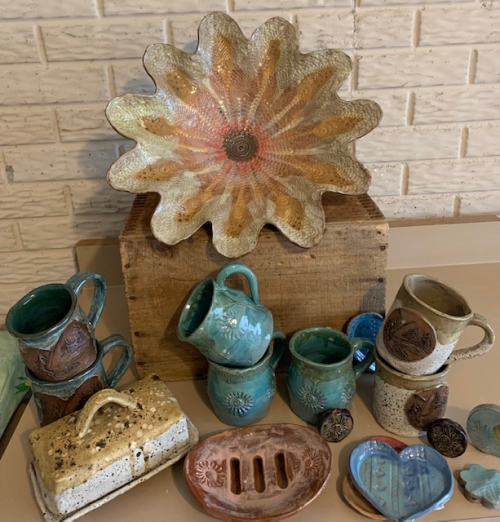 In college I studied ceramics, an art form I resumed recently, focusing on hand built items, including mugs, bowls, dishes, sculpture, and garden bells. My work is available under the name Tea Creek Clay Works.
Jan Skellion
Eric Stahl
Website: Wannabe Farm