Welcome
Holiday Open House: Food and Festivities! 4-7pm Friday December 1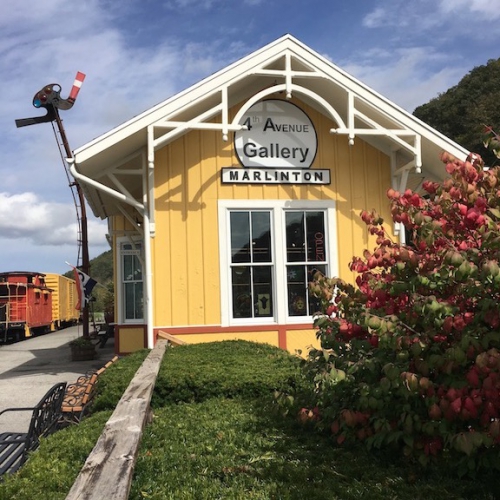 About Us
Throughout the year, the Pocahontas County Artisan Co-op works to advance awareness of our rich arts and crafts heritage. We are a business incubator, assisting regional artisans in advancing from hobby to cottage industry. We are also committed to promoting the arts in Pocahontas County through public demonstrations, workshops, exhibitions and community-based educational activities. Come see us in Marlinton or Cass and find out more!

The Co-op supports a year-round gallery for exhibition of member arts and crafts, The 4th Avenue Gallery of Fine Arts & Crafts located in the historic C&O Railroad Depot at 720 4th Avenue in Marlinton, WV. We lease the historic McLaughlin Log Home beside 4th Avenue Gallery, where visual artists meet weekly for classes and collaboration.
During the train season, May - October, find us at The Shops at Leatherbark Ford, located adjacent to the Depot at Cass Scenic Railroad State Park. November - April, we're open Saturday, Sunday, holiday Mondays and any day the trains roll! Once used as coal storage for the trains, these delightfully renovated rooms provide a charming shopping experience, where you're certain to discover a locally handcrafted treasure. Before or after your train ride, the long covered porch is the perfect spot to watch a craftsperson at work. Please make time in your schedule to visit with us!
The Pocahontas County Artisan Co-op supports more than 40 juried artists and craftspeople working in two dozen mediums. Our focus on the region's arts and crafts heritage has attracted a broom maker, basket maker, stonecutter, quilter, and wood craftsmen making everything from spoons and cutting boards to clocks, scrollwork, and furnishings. We also have artists working in watercolor and oil, photographers, jewelry-makers, and members creating specialty foods from local sources.
We are proud to provide financial support for community arts events, including Pioneer Days, Watoga Art in the Park, Droop Mountain Studio Tour, and Huntersville Traditions Days.
Follow us on Facebook for special event postings!